During the start of March, the PSEi already saw a rather significant drop from its 7,000 price level. However, as the news of a possible lockdown started to circulate, the stocks continued plummeting until it eventually reached its lowest point at around 4000 two days after the actual lockdown was implemented.
Seemingly stagnant at first, the PSEi started to make a slow recovery forming a kind of short term uptrend movement. From its bottom at 4000, it was able to reach a high of almost 6000 before going back down to 5500. Now, the price has just been bouncing around somehow stuck between the 5500 to 5600 levels. If you study chart patterns, you may even find some kind of a descending triangle which is known to be a bearish chart pattern. Refer to the image below: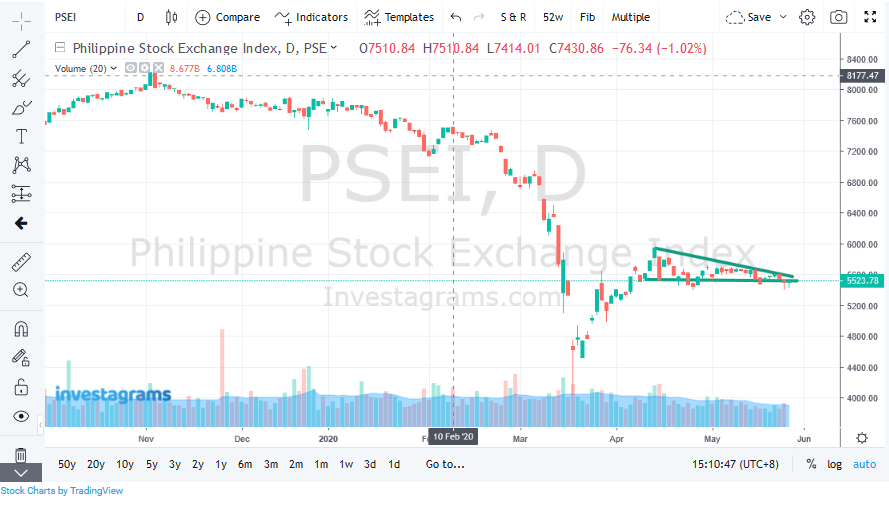 With that said, it seems like the PSEi has stopped its movement and is just stuck in its place. This situation does raise a number of questions for investors. Will this lead to another downtrend? Will stocks just be stuck where it is? Does this mean our economy is doing bad? When can we expect things to go back to normal?
We'll answer all those questions in this article and give some suggestions on what you can do in this trying time.
What is the Cause of the Stagnant Movement?
In order to know what's going on in the market, we must first understand the sentiment of the stakeholders. If you check out the chart that we showed earlier, you can see that after the big drop, there has been some upward movement which meant that there was volume. There's a high chance that these players were the "bargain hunters" who wanted to buy various stock prices at dirt cheap prices.
In mid-April, you can see that there was a pretty significant drop in the PSEi flooring the price at around 5500. Judging by some movement of a number of blue chip stocks, it was around that time wherein some traders let go of their trades most likely to pull out profits.
From there, investors have been on the sidelines ever since possibly due to the government's planning strategy to easing the lockdown. Today, investors are most likely just waiting for the next announcement of the lockdown easing which is why volume of trading is low. Investors are sitting on the fence since they don't want to let go of their money until they know what will happen to the private sector.
The government is anticipated to switch from a Modified Enhanced Community Quarantine to a General Community Quarantine by the start of June.
Will Easing the Lockdown Kickstart the PSEi?
It's important to note that there are a few scenarios that may kick in here. If ever the GCQ does start on the 1st of June, we can expect some volume to come in since businesses will start to open again. This may whet the appetite of various investors.
However, there is also the possibility of an increase in infections if the government decides to continue with this plan. A sudden increase in infections will mean that another lockdown might be in place which may further dampen investor's mood to pump in money.
In fact, Senior Research Analyst of Philstocks Financial Inc. Japhet Tantiangco mentioned that there are growing concerns of the slow contact tracing activity from the end of the Philippine government. That is possibly one of the reasons why daily cases have been rising in the past few days. This in itself brings about the concerns of further worsening the spread should the lockdown start to ease up.
Is the Philippine government prepared to start easing its restrictions yet? This is a big question that can sour the mood for investing. If this question is not answered, we may not see the bulk of volume that we need for a significant recovery in the PSEi.
And if ever the Philippine government is not prepared for the easing of restrictions and another lockdown occurs, there might be another sell-off lowering the PSEi further than the 5500 price level.
Does This Signify a Bad Economy?
It's important to take note that the stock market index is not an indicator of a bad economy. Rather, it is just an indicator of the perception of investors with regard to the private sector.
To know more about the stock market's relation to the economy, we have a separate article you can take a look at. This article will explain why you shouldn't worry too much about the economy should you see the stock market tanking.
Do take note that there are so many things that will affect an economy such as GDP, monetary policy, foreign reserves, or more. You can check out our news section to be more updated with the latest economic developments in the financial market to be more aware.
So in a nutshell, what we're trying to say is not to panic about the economy just because the stock index seems weak.
What Can Be Done?
In a stagnant (and possibly even a falling) PSEi, the biggest challenge are the number of buyers. It's highly likely that the lack of volume in the PSEi is due to Covid-19 and lockdown concerns that have been popping out in the past month until today.
If you have already invested in some Philippine stocks, then the only thing you can do for the moment is wait for a recovery. When will that be? We don't know. We just need to be patient in that sense (especially if you're into blue chips).
However, this doesn't mean that we can't earn some extra money RIGHT NOW. One of the key principles of investing is to never put your eggs in just one basket.
While your stocks can be your medium to long term investments, you can put your money in the more liquid and volatile Forex market. The advantage of the Forex market over the stock market is that the Forex market will always have volume since it is a globally open market.
Also, you can profit from both falling and rising economies, giving you the chance to find some great opportunities on a daily basis.
That's why you don't need to always check your stock port for any gains. You can just leave it there for the time being and trade the Forex market instead.
Here at Learn to Trade, we have our trained and expert trader coaches to help you craft a solid trading plan. If you want to learn how to recover and regain your losses